WELCOME TO TAMYOUTH
THIS WEEK
at


A full programme of activities now available - See below
The centre is open offering it's Summer Term Programme
Free membership - registration required for new membership card
Nightly fee 50p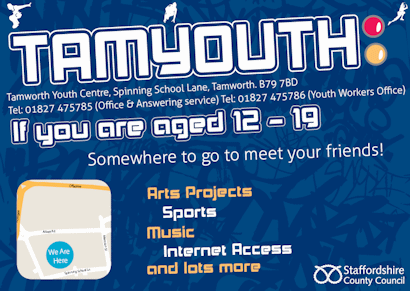 Tamworth Youth Centre
Weekly Programme

MONDAYS
SPACE(LBGTQ Group)
for young people aged 14 to 19
4.00 p.m. - 6.00 p.m.

TUESDAYS
Senior Youth Club - 7.00 p.m. - 9.00 p.m.

WEDNESDAYS
WAC - Wednesday Afternoon Club
for young people with special needs
4.30p.m. till 6.00 p.m.
School Years 7 to 9
Judo Club - 6.00 p.m. - 8.00 p.m.

THURSDAYS
Open Youth Club - 7.00 p.m. - 9.00 p.m.

FRIDAYS
Twilight Zone - 3.30 p.m. - 6.00 p.m.

SATURDAYS
Table Tennis Coaching - 1.30 p.m. - 3.30 p.m.

plus occasional SPECIAL EVENTS

---


CLICK on LOGO ABOVE FOR DETAILS
---
Table Tennis Coaching
EVERY SATURDAY
1.30 p.m. - 3.30 p.m.
---
Tamworth District Youth Forum
Meet at Tamyouth
on Thursday evenings
5.00 p.m. - 7.00 p.m.

Click here for more details
---


a website for young people to find things to do within Staffordshire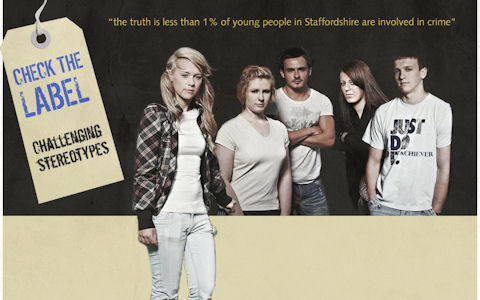 | | |
| --- | --- |
| Teenage Relationship Abuse | Alcohol Advice |



Tamyouth is the home of TCRFM



TeenLife Check is a new website from the NHS
for people aged between 12 & 15
It's an online quiz that asks you all sorts of questions about your life.
It's completely private.
Nobody can see your answers, so you can be as honest as you like.